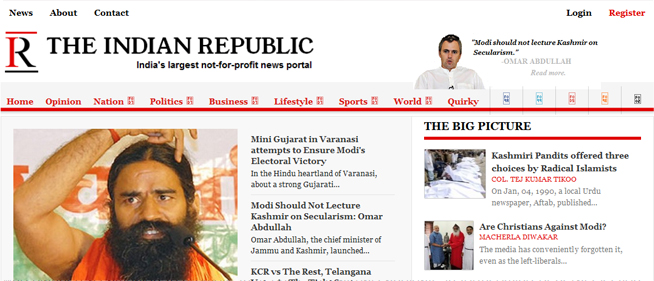 The Indian Republic is an India based news portal developed using Open source and WordPress. A team of web developers has worked round the clock and developed a platform where news hungry people get current information, news, trends and updates. We have made TIR a right kind of elegant news portal developed using WordPress after thoroughly analyzing the users'reading habits. To make the portal easy going and clutter free, we have added a range of high end utilities and features. These features will surely make news reading an amazing experience.
Custom layout
Easy-to-use admin panel
Multi Level user features
Add/edit/delete features
Add/edit/remove advertisement & news banners
Easy news management
Article management
Banner management
The Indian Republic offers easy navigation option for the users to enable them navigate from one section to another. A feature 'News Highlight' brushes them up with the breaking news appearing from across the country. 'Email subscription' lets users subscribe daily news in their mailbox and 'Social Integration' gives them an opportunity to share the news item they like with their groups and community they are the part of. Apart from the features mentioned we have added plenty of awesome features that you can expect from a responsible news portal. You will experience them when browse the website.

Tarun Gupta, CEO of Brainpulse Technologies, is a prolific author and digital marketing specialist. His insightful writings span SEO, content marketing, social media strategy, and email campaigns, offering invaluable expertise to businesses worldwide. Tarun's contributions continue to shape the digital marketing landscape, guiding success in multiple niches.
---