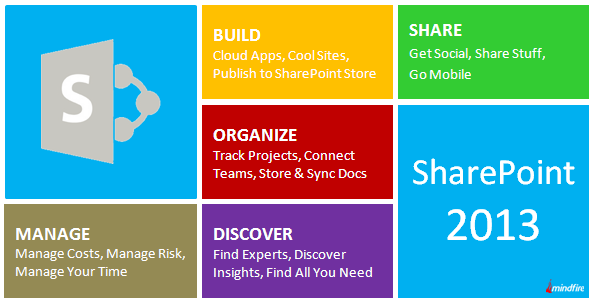 The news is finally out there. After a long haul, the brand new and fully loaded SharePoint 2013 has been tucked in the showcase. This time Microsoft puts a lot more to let users organize, share and sync content efficiently. However, a number of existing features are still there to complement the advent. Let's talk what's new in this revolutionary product.
Plenty Of Features To Explore in SharePoint 2013
Offer Support To Designing Tools
If you are a designing freak, you can play with your favorite designing tools say Dreamweaver and Photoshop for instance. The crux is simple. Publishing site in SharePoint is now no way reserved for those who have the upper hand in this technology. To brand a SharePoint site, all a designer has to do is to use their favorite designing application and implement CSS, JavaScript and HTML in the way they want. There is hardly any obligation from now to use SharePoint Designer or Visual Studio 2012 to brand a SharePoint site.
'eDiscovery'
This is quite an enhanced feature I am serious about. It renders an opportunity to the users to explore and share ideas, documents, information and project with other peers in the organization. It has become pretty easy for users to generate reports with the help of Excel sheet and to update it as well
Optimized Mobile Browsing Experience
The major reason behind this upgrade was the mobile revolution. Microsoft seems quite serious about this thing. This is why they added a 'SharePoint Server 2013 Preview' for Smartphones to enable a contemporary view browsing experience for users.
Contemporary View:

It brings more ease to navigate and access document libraries, lists, wikis, and Web Parts. The view is available to the mobile internet explorer version 9.0, Windows Phone 7.5, Safari version 4.0, iPhone 4.0 and Android 4.0 as well.

Classic View:

The view takes advantage of HTML and other similar markup languages (CHTML, WML, and so on) in order to offer backward compatibility for mobile browsers. Another addition comes in the form of 'Device specific Master Pages' that helps to target different devices such as Smartphones and tablets together.
New App Model
The new app model has been introduced to embrace a new paradigm to render the web standards. What seems a big value add for the web developers is that they can now ensure a massive user experience using HTML and JavaScript
Robust Social Features and Activity Feeds
An awesome idea indeed. Now users can get real notifications of what's happening on a site. The notifications will be about following documents, following sites, and following people. SharePoint Enthusiasts are saying it social computing
Familiar Toolset To Use and Explore
Web development professionals now have an opportunity to build apps using the familiar tools and languages they already know. The new cloud app model gives you the freedom to choose your favorite languages and tools like Azure, ASP.NET, Apache, C#, Java, and PHP.
Although Microsoft has added a number of other features as well, I have pointed out a few that I find the most important and eagerly awaited. In between you can get the comprehensive list of additions from the official Microsoft SharePoint portal.

Tarun Gupta, CEO of Brainpulse Technologies, is a prolific author and digital marketing specialist. His insightful writings span SEO, content marketing, social media strategy, and email campaigns, offering invaluable expertise to businesses worldwide. Tarun's contributions continue to shape the digital marketing landscape, guiding success in multiple niches.
Brainpulse provides an extensive range of ASP.Net web development services to develop SharePoint based utilities. These applications help to improve application speed and response time both for the developers and users.
---