While searching for some information on Google, you must have seen a section called "People Also Search For". In this blog post, I will elaborate on this topic. Google works hard to provide searchers with the most accurate, relevant, and high-quality search results. To make this a reality, search giant comes up with innovative features for their Search Engine Results Pages (SERPS).
What Is Google's People Also Ask (PAA) Feature?
The 'People Also Ask' or PAA is a feature of Google that appears on the search results page. The tool showcases related questions and answers that users might find useful. These questions and their answers are based on the user's initial search query. PAA is designed to help users easily find the information they need by displaying additional questions related to the original query.
You May Also Be Interested in: What is Google Word Coach?
PAA usually appears in a box, so Users can click on any of these questions along with their respective answers. These answers are pulled from a featured snippet or a ranking website.
The idea behind the feature was to offer users an opportunity to discover related topics and get additional information on their search queries. By using the feature, content creators and website owners can build quality content that might help them to get featured in the related questions and answers section.
The History of Google's People Also Ask
Since its introduction in 2015, the People Also Ask feature has evolved and changed to a greater extent. I have outlined here its complete timeline to date:
2015:  It was the year when Google introduced the People Also Ask feature. In its infancy, it was a small box displaying four related questions at the bottom of the search results page.
2016:  Google expanded the PAA feature this year. The search giant started showing more related questions and allowing users to expand each question to view the answer directly on the search results page.
2017:  In 2017, Google integrated PAA with featured snippets. The featured snippets are shown at the top of the page with a brief answer to the query.  With the integration, Google provided more information to users and improve their search experience.
2018: In 2018, Google came up with AI-driven PAA. The search engine started utilizing AI and machine learning to better understand user queries and provide more relevant and useful questions.
2019:  Google revolutionized the feature in 2019 by introducing image-based PAA. Images-based PAAs showed related questions based on images in the search results.
2020:  Google made PAA more expandable with the ability to display more related questions without leaving the search results page.
Why Google's People Also Ask is Important for SEO?
PAA Enhances User Experience
The tool cuts the down the time that users spend browsing the answer. With the feature in place, they don't have to browse through multiple pages to find the required information. They can just browse through the PAA question snippets to choose the most relevant entry. Users can click on a question to expand it and read the answer. They can also see additional related questions by clicking on the 'more' button.
PAA Improves Visibility
People also ask (PAA) helps to improve your website's visibility. Since the feature displays a set of related questions and answers against the given query, it's a great opportunity for your website to rank for more related search queries. Upon clicking a related question, the question expands and shows a snippet of information, with a link to the website.
PAA appears on the first page of search engine results. So, by optimizing content to appear in PAA, you can grow the visibility of your website by increasing the chances of getting noticed.
PAA Helps to generate Content Ideas
Besides helping you in having an SEO advantage, PAA can also be a valuable tool for generating content ideas. The tool pulls greater insights into the questions asked by the people on a particular topic. Content marketers can analyze the questions listed in PAA to identify gaps in existing content and create ideas for new content that can fulfill the user intent.
How to Use Google's People Also Ask to Generate Content Ideas?
You can create high-quality content for your readers with the help of Google's People Also Ask feature. Here is how you can do this:
Type a keyword or phrase related to your topic in Google's search bar.
Scroll down to the bottom of the first page of search results, and you'll find a section titled "People Also Ask." This section displays a list of related questions that people have searched for
Click on one of the questions in the PAA section, and it will expand to show additional related questions.
List the questions that are relevant to your topic, and use them to write new content. Create a content piece that answers one of the questions.
PAA also offers ideas for headlines and subheadings for your content. Use the feature to identify knowledge gaps or areas where your readers are struggling to find information.
How to optimize your content for Google's People Also Ask Feature?
Content creators can utilize the feature to optimize their content and improve visitor traffic on the website.
Research questions
You can scan through the PAA questions that are related to your topic. Tools like Google Autocomplete, AnswerThePublic, or SEMrush might help with this. Create a list of these questions and start writing content using those questions. Keep addressing the struggles of users by picking each question in standalone content.
 Structure your content
Once you have got the topic to write content on, start to organize and break it into subtopics for better readability. Use headers and subheaders to break up your content into easy-to-read sections. You can also use bullets and stats as well to highlight key information. This way, you will help Google to understand the content.
Provide accurate answers
While writing answers to the questions you have shortlisted, make sure that your answer is accurate and covers all the points in detail. To add more value to the answer, you can add use relevant examples, statistics, and other relevant data.
Use Conversational tone
When writing answers to the question, keep your tone conversational. Don't use complex words or use technical jargon. Having an easy-to-understand flow is always a good thing to go with.
Use schema markup
Schema markups are an integral part of any optimization strategy. They help search engines fully understand the structure and content of your website. You can use the FAQ schema markup to mark up your question and answer content.
You May Also Be Interested in: How to Drop a Pin in Google Maps?
What is Google's People Also Search For (PASF) Feature?
Google's "People also search for" is an innovative tool that offers users a list of related search queries based on the initial search query. The box can be found as a box or a list of related queries below the main search results. By introducing the feature, Google aims to help users to have more relevant information based on their initial search query.
Google uses its algorithm to generate these searches. The algorithm analyzes user behavior and search patterns to understand what users are looking for. To provide users with the most relevant suggestions,  the algorithm considers several factors including the user's location, search history, and search terms.
The main aim of Google behind rolling out this feature is to offer users an overwhelming search experience. Google introduced the 'People Also Search For' or PASF feature back in 2018 to improve the search experience of users. With this feature in place, Google started showing follow-up searches to the searchers if they didn't find the results satisfying.
When you hit Google search for searching a particular keyword or a topic, it throws up a list of relevant high-quality search results consisting of links to the web pages. If you navigate to a particular website but bounce back to the search page without reading much, Google assumes that the search result didn't answer your query.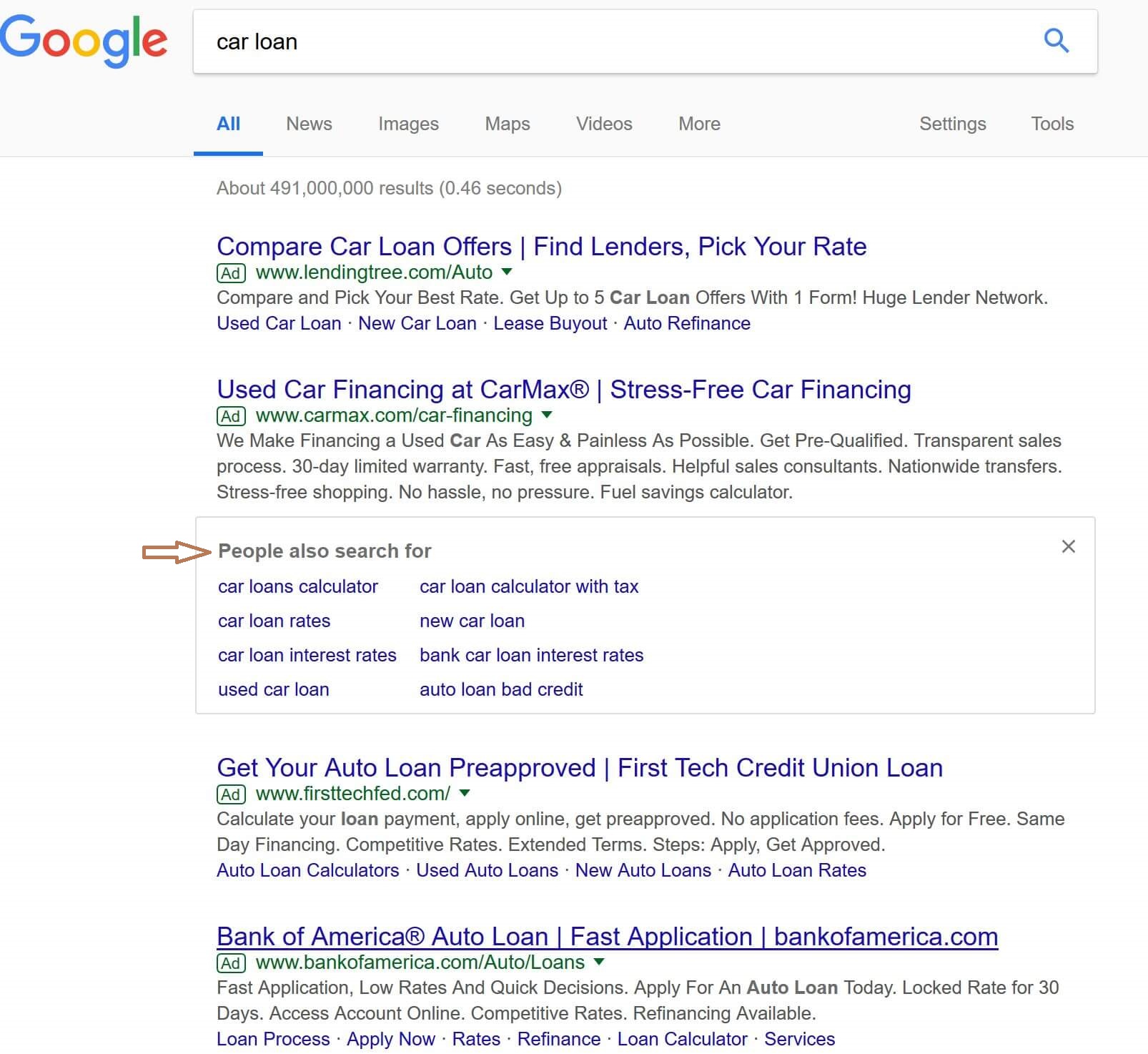 To give searchers more options to find the right answer and engage them for longer, Google offers the "People also search for" snippet right under the search result. The section contains some other related and relevant keywords that might have answers to the query you asked. These are the important key phrases that users have frequently used while searching for this topic.
History of People Also Search For (PASF) Feature
The "People Also Search For" feature, also known as "Related Searches," has been a part of Google search results for several years. The feature was initially introduced as a way to help users discover additional search terms related to their original query.
In 2012, Google updated the "People Also Search For feature" with a new design that displayed a carousel of related searches at the bottom of the search results page. The carousel could be scrolled left and right to reveal more suggestions.
Over the years, Google has continued to refine the "People Also Search For feature" with improvements to the algorithm and design. In 2016, Google introduced machine learning to help generate more accurate and useful related searches based on user behavior and patterns.
In 2018, Google further updated the feature with a new design that incorporated expandable snippets of information for each related search term. This allowed users to get a preview of what they might find if they clicked on the related search term.
Today, the People Also Search For feature is an important part of Google's search results page, providing users with a way to explore related topics and expand their search query. It also offers opportunities for website owners and SEO professionals to optimize their content to appear in related searches and drive more traffic to their websites.
'People Also Search For' vs 'People Also ask'
The above-mentioned features have always been integral parts of google's search ecosystem with entirely different purposes to serve.
The "People Also Search For" snippet appears at the bottom of search engine results pages and shows related search queries that people have searched. These related searches help users to refine their search and find more specific information related to their initial query.
On the other hand, the "People Also Ask" feature appears within search engine results and provides users with a list of related questions that people have asked about the topic they searched for.  The questions in the PAA snippet help users learn more about the topic they searched for and explore related information.
Both the 'People Also Search for' or 'People Also Ask' features appear dynamically and consist of a set of questions related to the original query. The 'People also ask' entries are not keywords but questions people ask regarding a given topic.
How to use "People Also Search For" to identify content gaps?
You can use the "People Also Search For" (PASF) feature to identify content gaps and opportunities to create new content that addresses related topics or questions that are not already covered on your website or in your existing content. Here are the steps to follow:
Search google using your target keyword or phrase
Scroll down to the bottom of the search results page to find the "People Also Search For" section. The section contains the list of related queries that people commonly search for alongside your target keyword.
Review the list of related queries and identify topics or questions that are not currently covered on your website or in your existing content.
Use the related queries to build new content that resonates with your audience.
Before writing the content, conduct keyword research to determine the search volume and competition level for each new content idea.
How to use People Also Search For to enhance your overall SEO strategy?
PASF keywords are crucial to your SEO strategy. Google algorithm pulls them right from its database. These keywords are the key terms that searchers use to access some information online or learn more about a topic. Since the success of an SEO campaign relies more on your target audience, The "people also search for" keywords help you have deeper insights into your target audience's search intent, preferences, and interests.
You can effectively use the 'people also ask for' feature from Google to optimize your SEO strategy to rank your website higher for competitive keywords. I have listed here some tips to use PASF to enhance website visibility and traffic.
1. Identify relevant PASF keywords
Discover PASF keywords that are related to your topic and specific to your target audience. You can use these targeted and relevant keywords to create additional content that targets related queries.
2. Optimize your content for PASF keywords
Once you have listed out the keywords that you think are important to your niche, you can now use these relevant PASF keywords in your content, headlines, and meta descriptions. It will help search engines understand the relevance of your content to related queries.
3. Expand your content to cover related queries
You can scroll down the snippet further to find PASF suggestions to identify related topics and queries that you can use further in your content. Covering suggested topics in your content will turn it into an information powerhouse.
4. Use PASF to generate new content ideas
Moreover, PASF can provide can help you jot down new content ideas and topics that you haven't covered yet. Your audience might be interested in it. Use these suggestions to build a new stream of high-quality content that resonates with your audience.
5. Monitor your rankings
Monitor your rankings for PASF keywords regularly to find if the content is appearing in related searches. This will help you identify opportunities to optimize your content further and improve your overall SEO strategy.
'People Also Search For' In Mobile SERPs
If the numbers are to be believed, over 58% of desktop searches and over 88% of mobile searches show People Also Search For results.
Interestingly, on mobile searches, this box is labeled as "Related searches and placed at the bottom of the SERP. If you watch closely, you can see little three dots above the PASF box on the right. They read: "These are related searches that other people have done" if you click on them. Google briefs it as "Your search & this result".
These are the recommendations that Google suggests based on the search keywords and user intent. The language of the suggested result is English and they are not advertisements.
How to Use "People Also Search For (PASF)" for High Rankings:
So far we have learned about the different aspects of PASF. Now we will discuss the many in which we can use the feature to rank higher in Google search rankings.
1. Use PASF to Understand User's Search
By analyzing the keywords appearing in this section, you can better understand the overall search intent of the target audience. These keywords will give you an idea of what people are searching for while using these search terms. This way you can optimize your content for your target audience.
2. Use PASF for Keyword Research
The 'People Also Search For' feature can give marketers ample keyword ideas for their next content marketing campaign. Since this data is pulled right from the Google database, it is highly relevant to your topic. You can generate great organic traffic and achieve ranking if you create high-quality content using these keywords.
3. Use PASF to Conceive New Content Ideas
These keywords can help you to conceive some great content ideas for your next marketing campaign. Find your target topics first and then discover its PASF keywords using a keyword tool.
Analyze the top pages in the search results that are ranking for these key terms. It will give you great content ideas and you will be able to create fabulous content for your blog or website.
4. Use PASF to Create FAQs
You may have seen FAQs at the very bottom of the blogs or articles. These FAQs help to engage readers and rank for multiple search keywords used in the questions. You can explore the PASF section to find keywords/topics to include in your FAQs. These are the search terms your audience is already searching for.
How "People Also Search For (PASF)" Works?
The section pulls data from Google's database itself. The process is powered by Google's Related Searches algorithm which considers numerous factors to establish which queries are related to the main query.
The algorithm refers to the main query triggered by the user to determine the related queries. Searcher's location and the searcher's devices are also important in ascertaining the related queries.
Other factors that play a significant role in finding the related query to the main query are the searcher's search history and the content of the SERP. Google updates the People Also Search For algorithm in real-time.
You May Also Be Interested in: What is Google Question Hub and How Does it Work?
How You Can Manage Duplicate PASF Topics?
You may find tons of duplicate topics in PASF or Google's related searches. It's not difficult though to manage them. Instead of using the same query on different pages, it's recommended to create a single landing page for all related queries. It will cut keyword duplication to an extent.
In case you have several pages across the website covering the same topic, it's important to use canonical tags to tell Google which page is the original and which ones are duplicates. You can also use redirects to navigate users from the duplicates to the original pages.
How to Optimize Pages for PASF Keywords?
While creating the content, make sure it's aligned with the searcher's intent. To do so, conduct thorough research on all the related topics to understand what are the keywords your target audience is using to find your products or service.
Find all keyword combinations that you think are important for your content to rank. While writing the content, including the search terms that are related to your content topic.
Best Tools to Find PASF Keywords 'People Also Search For' (PASF) Keywords:
To attain high rankings in search results for PASF keywords, you should find the right keywords first. There are many tools available there that may help you in this. We have covered here a few tested tools (available in both free and paid versions) that can help you in keyword research.
Keywords Everywhere
The tool displays data directly on your search page. It's available as a Google Chrome extension and helps you to find both 'Related Keywords' and PASF keywords. The tool shows as many as six keywords related to your search query for every search result on the SERP. The keywords are shown along with their monthly search volume, CPC, and competition.
Google SERPs
Google search engine result page is also an ideal place for finding PASF and PAA (people also ask) queries. Using Google search, you can easily find keywords and related terms that people are searching for.
Google's People Also Ask (PAA) section can also help you in the discovery of these keywords that you further use to create content or marketing campaigns.
Conclusion:
Google's People Also Search section gives search marketers an outstanding opportunity to discover new keywords and content ideas. These keywords are directly pulled from Google's database, so you can trust their credibility and reliability.

Tarun Gupta, CEO of Brainpulse Technologies, is a prolific author and digital marketing specialist. His insightful writings span SEO, content marketing, social media strategy, and email campaigns, offering invaluable expertise to businesses worldwide. Tarun's contributions continue to shape the digital marketing landscape, guiding success in multiple niches.
---