Google seems eager to drive app deliverability and app engagement at a new level. The search engine biggie is now rolling out a brand new and beautiful layout interface for 'apps' search on mobile.
Now onwards a search term following the word 'apps' will pop-up a grid of app results above the normal search results. Each block in the search results is colored according to the app's icon. Clicking the "expand" button will open open up the grid even further with more results flowing in.
The new mobile search interface layout is being rolled out for both Google Play and Apple Store, but these results seem to only appear on Android for now. The search result will also reflect download numbers and ratings as per Play Store stats, and each block will take you to the relevant Play Store listing.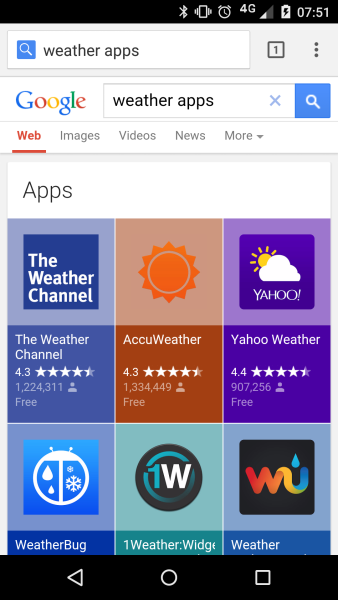 Searching the same phrase on iPhone gets a card with a list of apps, linking to its own listing in the App Store. It's yet to be under curtain when the feature will be coming to other mobility platforms.
Rajesh manages digital media campaigns in BrainPulse and has over 8 years of experience in directing and implementing online experiences to promote business, products and services on social networks.
---