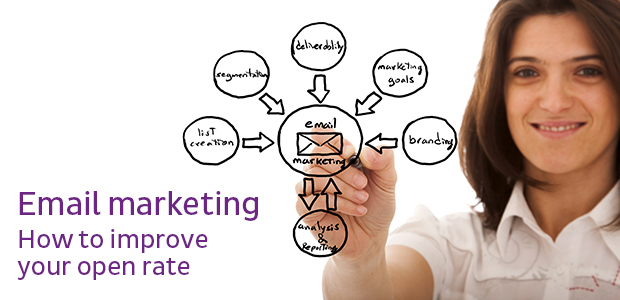 The primary goal of an e-mail marketing campaign is to invite more customers to their see, analyze and participate in their ventures. If statistics and data sources are to be believed, millions of the e-mails are being sent everyday to their respective customer base. E-mails are one of the most effective communication channels ever admired and accepted. The primary concern that really haunts me is unfortunate failures of e-mail marketing campaigns due to one reason or another. If you too are anxious about the dipping open rate of your mails, here are the points that will help you in getting your emails read by the targeted buyers.
How To Get Your Emails Open and Read?
The Inbox of your potential customers contains hundred and thousands of mails stating the same pitch what you are trying to do. Your message has to fight a fierce battle their to win the subscriber's attention. There are several factors that precisely impact the email success rate. Subject line, keywords and timing of the mail are the key factors that significantly improve your email open rate. Let's calculate the decisive factors that improvise email open rate.
Set The Offers Right:
While inviting readers to subscribe your newsletters make sure that lately you must deliver the same what you have promised for and what the audience is expecting. If readers subscribe your latest posts, nothing would convince them if they meet with an email comprising the details of a recent product launch in your company. A latest blog post or content is all what they are expecting for through the subscription. On your subscription page clearly mention that what it offers to the users.
Keep A Short Subject Line:
The second most important aspect of your email that decides the open rate is its subject line. The subject line you should be short, simple and able enough to convey your message to your readers. Lengthy subject line not only shrinks the space but also offer less engagement. On the contrary a short headline engages more readers as soon it appears on the screen. Ideally, an email subject line with text under 50 characters so would be the great choice.
Make Your Subject Line Catchy :
After its length, the creativity and the attention quotient of the subject line decides the fate of your email. A catchy headline always collects the better response. An attentive and interesting subject line helps users to decide how to respond with the email. An innovative heading sends readers a message that the email contains something worth reading. A subject line is said to be the perfect one if it hints the brand, content inside and offerings together. Find here a few sample headlines that rocks.
Monthly Update on The Best Deals
Last 5 Days For 50% Discounts
Summer Sale Off Up to 33%
Over Promotion Kills:
An email content comprises both educational and promotional content. It will be a smarter idea to dig a balance between these two. Experts believe that your email content should have 90% educational stuff and 10% promotional. It's good if you are telling your customers about the service or product but saying it at length is a big disappointment. Don't turn your newsletter into a sales brochure. First educate them and they invite them to get into the transaction.
Choose The Right Time To Shoot:
Like other internet marketing services, in an email marketing campaign, time is the gem. The timing you decide to shoot the mail significantly affects the response rate. Prepare different schedules to test how users respond. Segment it on weekends, weekdays, twice a day and so on. Check the days when mails perform the best.

Tarun Gupta, CEO of Brainpulse Technologies, is a prolific author and digital marketing specialist. His insightful writings span SEO, content marketing, social media strategy, and email campaigns, offering invaluable expertise to businesses worldwide. Tarun's contributions continue to shape the digital marketing landscape, guiding success in multiple niches.
---