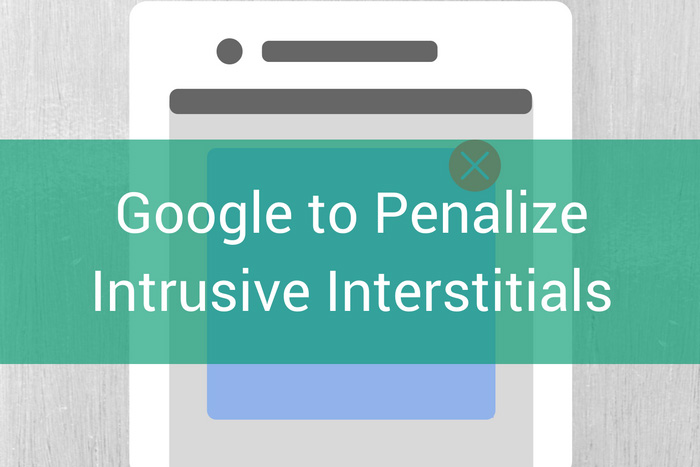 Back in August 2016, Google announced the arrival of a big update to tame intrusive interstitials knowingly or unknowingly coming in mobile searches. The search giant hinted that starting from January 10th onward it will begin to devalue web pages in mobile search with intrusive interstitials.
Mobile Interstitials Penalty: All You Need To Know
It appears to be the final warning to the webmasters from Google. They got enough time to get into the sync with the intrusive interstitial guidelines. If you haven't yet made changes to your website / web pages accordingly, I have listed here 7 points that will help you avoid the Google wrath.
1. Follow What Google Dictates?
The topmost thing that you can do to avert Mobile Interstitials Penalty is to listen to the Google carefully. You just do what Google says you to do. Google's take on the intrusive interstitial is pretty clear. With the update, the search engine juggernaut is pushing owners to ensure an uncluttered mobile search experience. The guideline says that the pages where content is either not available or not easily accessible, won't likely get a ranking boost.
That means- website owners need to make sure that content pages indexed in mobile search must be available when a user clicks through to the page from Google.
2. Tame Pop-ups From Blocking Content:
Frequently appearing pop-ups may put your website under Mobile Interstitials Penalty. Unless your pop-ups serve a purpose and don't block the content access, Google is fine with it. To avoid the pop-up penalty, you need to ensure that they are not chocking the user experience. You may have reasons to ask your readers for subscriptions, advices and feedbacks by throwing pop-ups time and again, but obstructing their reading flow midway is bad, really bad.
Notably, for pop-ups on mobile, Google considers some exceptions too. Some pop-ups are still acceptable if they are required by law, such as age verification. Pop-ups that detract users from the main content on the page are also exempted.
3. Do Not Hide Content With Ads:
The update will outnumber the days when owners used overlay ads to hide content, either for a few seconds or until users find an 'X' to dismiss them. Now, Google is targeting such ads that prevent users from reading a website.
With the latest interstitial guidelines, the ads that are displayed over top of the main content will be deemed as a violation of the terms. This includes the ads that appear when a user lands on the page as well as pop-up when users scroll down a page.
Google is no more in a mood to allow any obstruction that stops users from reading the content on the page at any time.
4. Ad Publishers Need To Revisit Revenue Strategies:
Changes bring hiccups, and that's true with Mobile Interstitials Penalty update as well. It will bring some pain to ad publishers for sure since the revenue model could be changed with the proposed update. That means businesses now need to think beyond advertiser dollars. They have to figure out other ways to generate revenue. Running obstructing ads isn't the only way to get dollars. Rather focusing on ads only, you should find other ways out to generate traffic and gain profit via your website.
5. Be Consistent With Quality Content Flow:
Amid penalty chaos, content is still the king. You ought to be consistent with content quality on your blog / website. Create an unbeatable content marketing strategy that ensures the regular creation and distribution of blog posts, articles, guides and videos. This way you can educate audiences and navigate them through the buying process.
Despite believing on random intrusive pop-up ads, you need to develop a content marketing strategy to sell your products and services.
Struggling with your non-responsive website? Get your own mobile-friendly website today.
6. 'Mobile-friendly' Label Set To Go, Responsiveness Will Remain Important:
Google will be removing "mobile-friendly" label from being displayed in search results on January 2017. Google claims that 85% of all pages in mobile search results now meet the criteria mentioned in Mobilegeddon, the labels have to go.
Web pages that carry intrusive interstitial won't be considered mobile-friendly. So if in a random check you don't find 'mobile-friendly' label next to your content in search results, keep calm. The label is being removed for every user. But this doesn't necessarily change the status quo that mobile friendly websites are still important.
7. Intrusive Interstitials Penalty is For Mobile, Not For Desktop:
The Google guideline on intrusive interstitials penalty notes that popup / interstitial pro-gram are all right if they are shown on desktop / larger screens. Instead ad-publishers can get advantage of smaller messages like banners, inlines or slide ins.
That means, you needn't to remove intrusive pop-up ads and interstitials from your desktop browsers. Just remove them on mobile pages. Pop-ups can still be displayed on desktop browsers without fearing penalty.

Tarun Gupta, CEO of Brainpulse Technologies, is a prolific author and digital marketing specialist. His insightful writings span SEO, content marketing, social media strategy, and email campaigns, offering invaluable expertise to businesses worldwide. Tarun's contributions continue to shape the digital marketing landscape, guiding success in multiple niches.
---