And here comes the big news.
Google, the search engine giant has finally admitted that its most awaited mobile first indexing is being rolled out. Though, webmasters have sniffed the rollout on multiple occasions earlier, this is the first time when Google acknowledged it via its official channel. A Google official admitted that numerous websites have been migrated to mobile-first indexing.
As the news is making rounds, Google has reiterated that only those websites are being migrated to Mobile First Indexing that follow its best practices. They added that websites that are using responsive web design or dynamic serving are best suited for mobile-first indexing. In case a website is using AMP and non-AMP versions of content, Google will prefer to index mobile versions of the non-AMP page.
Mobile First Indexing: Recall
As the name suggest, Google will give first preference to mobile version of a page while indexing a website. This is to encourage websites that deliver the best experience for searchers across all devices. The idea of mobile first indexing made headway when Google noticed the massive surge in searches being conducted on mobile devices than desktop browsers.
This is when Google decided to make sure that users find content that's optimized for their screen. Websites that don't comply with mobile-friendly guidelines then Google will still crawl and index the site as-is.
To clarify, mobile-first Index shouldn't be interpreted as a separate indexing database. All the content will remain within the same index, but Google will now be using the mobile versions when available.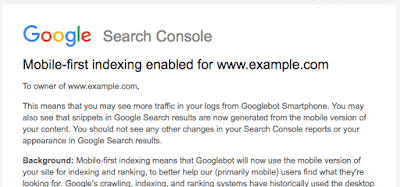 It won't affect rankings:
Along with this breaking news, Google assures that mobile-first indexing will not have an impact on SEO rankings. As per Google, the attempt is simply a change to how content is sorted at Google index. That means, an already migrated site doesn't necessarily have a ranking advantage over a site that has not yet been migrated to mobile-first indexing. Rather, the mobile friendly content is generally ranked higher in search results when the user is searching on a mobile device.
Google is now sending notifications to the websites that have been migrated to mobile-first indexing. Furthermore, site owners may see significantly increase in crawl rates from the Smartphone Googlebot.
---