Google has now become more prominent and innovative with Google places dashboard. I am stating it in the reference to the news that Google has finally upgraded its Google places dashboard with Google+ local integration. Google places are quite an innovative and robust tool that enables local businesses to manage their thorough business information that leads to the visible rankings in local Google search results. It's also an innovative initiative for the Professional SEO Services involved in local search optimization process.
Transformed Local Business Dashboard
Adding More To The Functionalities:
This upgrade was under process for a very long time indeed but now has become the reality. Webmasters across the domain are talking about the buzz and have their own views to endorse the notion. As soon Google has updated Google Places to Google+ Local, business nightmare for local marketers has come to an end. The new dashboard has a look very similar to the Google + with new functionalities on offer. The whole practice of rationalization will certainly in the favor of local businesses. Let's take a quick look over the advantages it will offer to the businesses.
Offering A Lot More To The Local Businesses:
This all in one Google Local Listing dashboard tenders a number of innovative and significant advantages to the users in comparing to its outdated dashboard. The overall design of Google+ local seems quite consistent with Google's current look across most of its products available in the market primarily the navigation options in the left-hand column. You can explore separate tabs for managing listing information. These tabs separate a Google+ Local page, AdWords Express ads and Offers
Integration With Google products:
For local businesses, this innovative dashboard gives local business owners a way to access the social features of Google+. Users may also share photos, videos or posts easily using this dashboard. The existing dashboard offers no such utility to the users. It had no ability to update your info and post it directly to Google+. With new dimensions of Google places Optimization services, it is quite possible with this new tool to comprehend the major local business benefits.
Relatively Faster Data Updates:
What seems really interesting with the new dashboard is that users may easily see most of the edited stuff on Google Maps and within 48 hours. Google attempts to moderate changes to make sure that users get highest quality local search experience.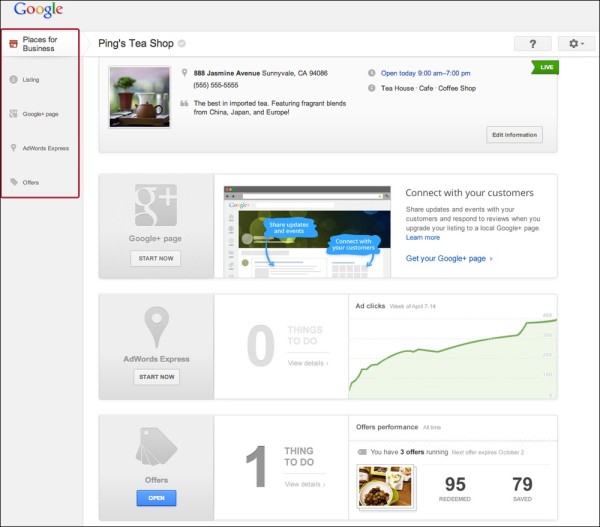 Brief Overview Of The Changes
If I summarize the whole new venture now users and consumers will see quite a number of visible changes with new features. Let's throw a glance over them.
The design and layout will be similar to Google and Google+.
The opportunity to manage manage your Google+ Local pages from the dashboard.
Get Quicker updates in the business.
You can see the appearance of a "Local" tab within Google+.
Enjoy the integration and free availability of Zagat reviews.
integration of Google+ Local pages across search, maps and mobile.
Integration of a circles filter.
Despite all the changes what seems to be the sigh of relief is that users will be able to manage their Google+ local pages and still be able to respond to reviews through the Google Places dashboard.

Tarun Gupta, CEO of Brainpulse Technologies, is a prolific author and digital marketing specialist. His insightful writings span SEO, content marketing, social media strategy, and email campaigns, offering invaluable expertise to businesses worldwide. Tarun's contributions continue to shape the digital marketing landscape, guiding success in multiple niches.
BrainPulse is a well-known and globally acclaimed SEO Company India service provider offering a broad range of customized Regional SEO Services to esteemed clients in order to offer them opportunity to make their local presence visible.
---