Facebook, the social networking giant has brought some cheer for business page administrators who wanted to see comprehensive insight about the videos they post over their networks.
Now, the social network has added a brand new 'Videos' tab to its page insights to give page administrators an access to aggregate information on views, 30-second views, top videos within a certain date range and metrics for videos shared from other pages.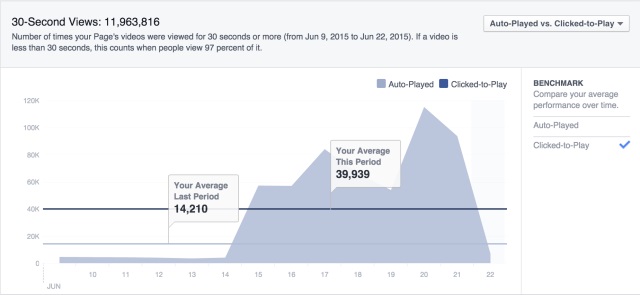 Though, administrators already had access of similar data but was limited to per-video basis.
In Facebook Media Blog Post, Product manager Anaid Gomez-Ortigoza shared the details:

"In the past, page owners have only been able to see metrics on a per-video basis. With this new tab, they will now be able to understand views and 30-second views in aggregate at the page level based on any custom date range, as well.

Toggling between view breakdowns–organic vs. paid, auto-played vs. clicked-to-play and unique vs. repeat—gives a unique insight into the viewing behavior for the page's audience.

Highlighting a time period surfaces the views from those dates. This allows page owners to have a more granular understanding of views day-over-day."
Now, administrators can check specific video benchmarks to compare their average performance over time. The tab has a top videos section that accommodates and explains a page's best-performing videos based on parameters like reach, views or average completion over a desired date range.
ALSO READ:
Facebook Starts Supporting GIF Files In News Feed
The information will help administrators to understand the top content that is reaching and engaging their audience. Clicking on any of the videos explores individual video metrics around engagement, audience retention and more. The change will be rolled out in coming weeks.
- Facebook page insights Gets Video Tab
---