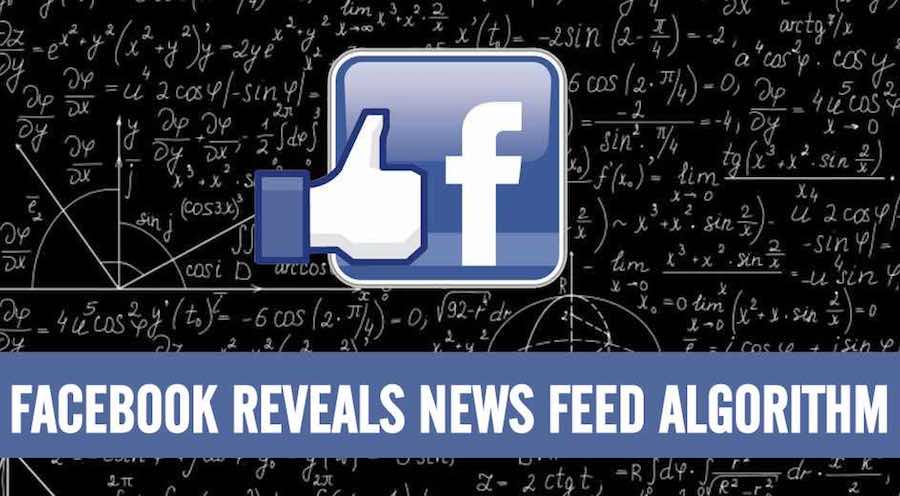 Facebook has consistently been doing efforts to offer its audience unmatched user experience. Company's latest News Feed Algorithm is pushing it even further. The new algorithm update aims at prioritizing posts, especially from family and friends to create meaningful conversations.
When launched, the algorithm triggered mixed reactions filled with curiosity and worry from brands, publishers, and Facebook Page managers. The major worry was if the change would hit organic reach of their posts down, resulting them to reach even smaller audience on the social network.
Like any other algorithm, Facebook's algorithm is a complex phenomenon. Unless you can dive deeper into it, you won't be able to hit the bull's eye. The post will explain you how the Facebook algorithm works and what brands can do to thrive on Facebook in 2018.
Why Facebook Launched Facebook News Feed Algorithm Update?
The algorithm change happened as Facebook received several thousands user feedback and requests for serious improvements in news feed. The three changes that Facebook made to the news feed are:
Offering more content to the users who don't have enough content to browse through.
Ensuring more and more of that content in your news feed that your friends directly post.
Make stories about your friends liking or commenting on a post appear lower down in News Feed or not at all.
In the announcement, Facebook indicated that though the update was rolled in for betterment, it might negatively impact post reach and referral traffic for business pages.
As soon the update went live, business pages reported major drop in their appearance in the news feed. The algorithm sparked a major row as unless pages started using paid ads and boosts, nobody would see their posts.
How Facebook News Feed Algorithm Works?
When a user arrives on Facebook, there are hundreds of posts that might be displayed in his news feed. Facebook's algorithm then goes through the posts and arranges them on the basis of how users interact with the content.
Technically, the Facebook algorithm binds together four components that social network considers important while deciding the post reach. They are:
Inventory (content available)
Signals (considerations about content)
Predictions (considerations about person)
Overall Score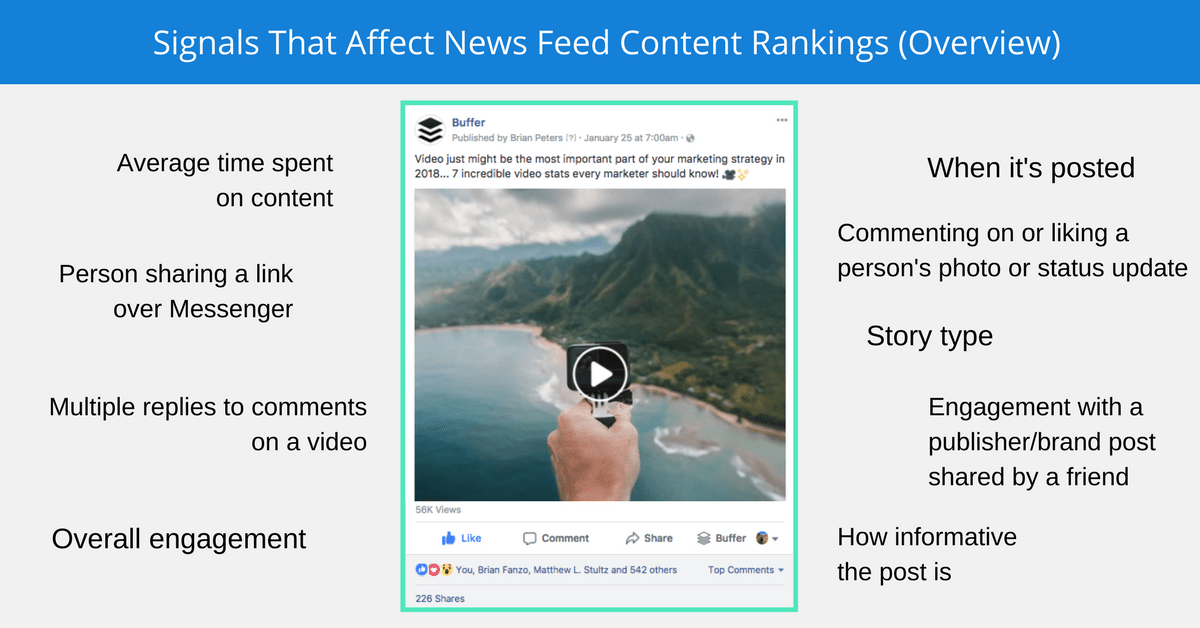 Besides enabling Facebook to take on post reach, these signals help Facebook serve better overall user experience.
Over the years Facebook used all multiple signals to determine which posts would be appearing in user's news feed. Now, the social network will focus on signals that favor real time interactions such as comments and shares.
The reason why Facebook now prefers posts from family and friends over public content from Pages is that the social network is of the thought that person-to-person connection brings more traction than person-to-page connection. That means, Facebook now believes the content from friends and family sparks more active engagements.
Facebook News Feed Algorithm: Ranking Factors
While determining right content for the news feed, Facebook takes into the consideration two important signals- Active interactions and Passive interactions. Sharing, Comments and Reactions fall in the category of active interactions, while Clicking, Viewing and Hovering are termed as passive interactions.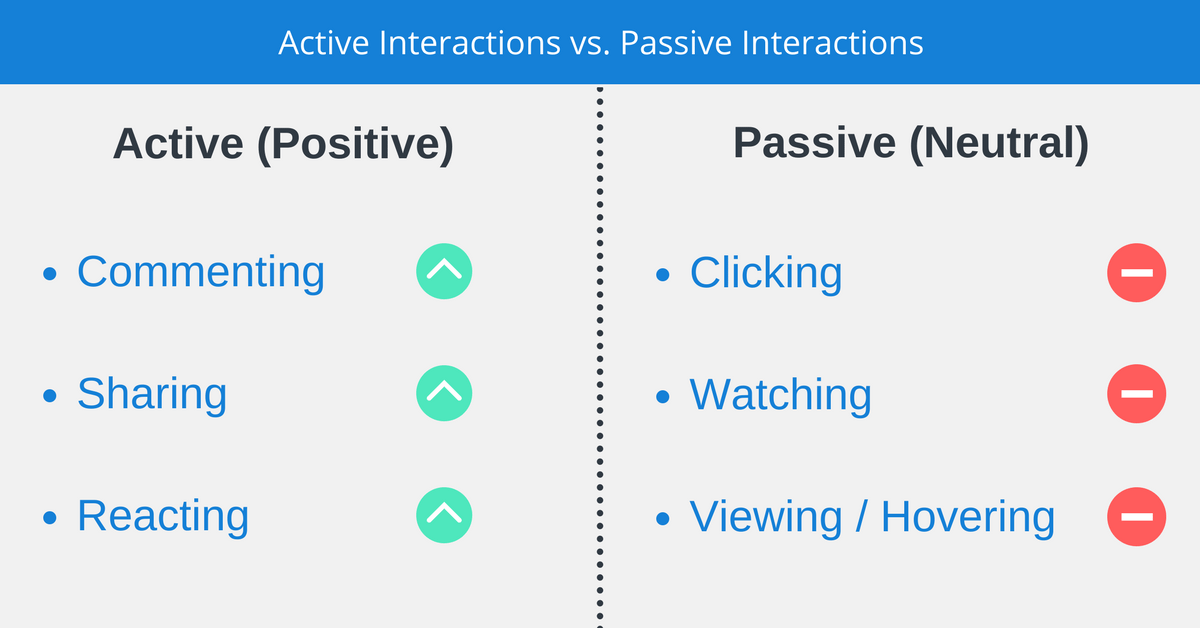 Active Interactions:
Let's look at active interactions in detail:
1. Comments:
Facebook News Feed Algorithm 2018 keeps Comments on top of all the signals. Facebook had already made its stand clear in January this year when its News Feed chief Adam Mosseri stated:
Page posts that generate conversation between people will show higher in News Feed. For example, live videos often lead to discussion among viewers on Facebook–in fact, live videos on average get six times as many interactions as regular videos"
When it's about comment, it should be natural and must be appearing in a real conversation. Using engagement baits to trick people into commenting is against Facebook guidelines and eventually results in demotion of your post in the News Feed.
Facebook, therefore, insists page admins to make their post relevant and meaningful and warns them against engagement bait tactics.
2. Sharing:
Sharing retains the second spot after comments in the new Facebook algorithm 2018. Facebook apparently mentions two kinds of sharing in its algorithm:
People sharing links or content within Messenger
Engagement with a publisher post shared by a friend
That eventually indicates that Facebook is giving more weightage to the posts that are shared publicly as well as privately. With the new algorithm in place, normal post sharing won't bring any benefit to your brand unless they spark conversations among friends.
3. Reacting:
The reactions are the third most important signal that Facebook considers into their algorithm. Though, the algorithm doesn't consider reactions as strong as comments or shares, they remain a form of "active engagement" and help brands' posts reach more people within the News Feed.
How to Survive from the Update?
As Facebook turned its existing algorithm upside down and switched it with a new one, it's now brands' turn to be in line with new guidelines. I am listing here some important points that will help you gain success with your brand promotion strategy on Facebook.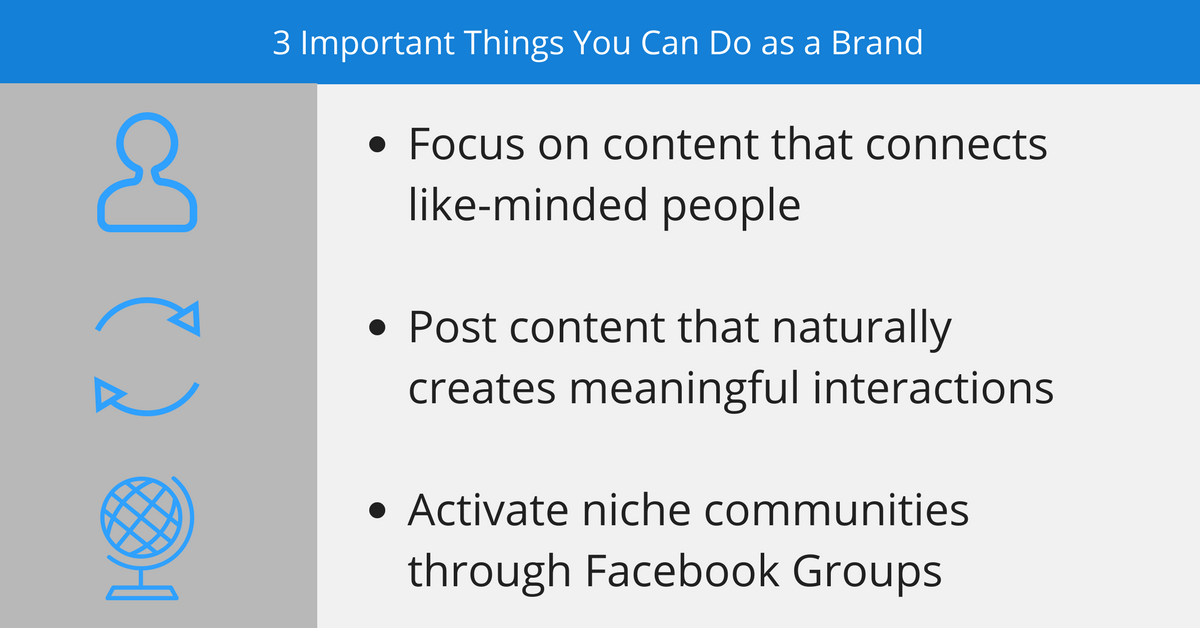 1. Create Engaging Content
That could be seen as an apparent shift in how Facebook recognizes the quality content. Instead of content that is being created for brands, Facebook is focusing on content that connects people through meaningful interactions. The latest algorithm emphasizes on content that's written for people can spark enough emotion to generate a comment or share.
As per Facebook, connecting content is one that's written around following questions:
Audience's challenges
Audience's motivation
Audience's interactions
Audience's preferences
2. Create Content that Sparks Interactions:
When it comes to Facebook, some posts engage visitors more than the other posts. It's evident that some content types pull more audience and spark more meaningful interactions among users. For instance, Videos are one that can drive a humongous audience on your Facebook success.If compared with link and images in the news feed, Videos perform better in terms of engagement. Moreover, Live videos have now surpassed every content type in terms of interaction and engagement.
3. Increase Communication Across Groups
Facebook's new algorithm will probably set its focus on Facebook Groups and Communities. Facebook Groups are used by over one billion people around the world, and thus, they help marketers build an active and engaged community around niche topics such as social media marketing, traveling, technology or fashion.
Facebook groups easily generate conversations among your audience and engage global audience. Recently, a dramatic rise has been reported in the number of people using groups and messaging apps over the past several years. Groups are probably the most effective way for people to get indulged in a more private and personal conversation.
4. Choose Right Time For Your Posts
This is crucial to research demographic details of the audience you're connected to. Keep finding the times when your audience visit your page the most. Follow the trends throughout with some analytics tools. Make sure that your audience continues to see your posts.
5. Keep Posting Quality Content
Don't try to throw fluff uselessly to engage audience. Your audience is not going to see it. Unless your business page is offering something valuable and constructive, you won't be noticed. Make sure that each post you share should deliver information and knowledge base to end users. Share content for your audience and not for the news feed.
The Conclusion
The latest Facebook algorithm will hold page owners accountable for posting content that audience finds important and vital. To make it working in your favor distribute great content to the right people at the right time.This is how the new Facebook News Feed Algorithm 2018 would look like. Once you go through it, you will be able to revitalize your Facebook strategy and work to develop meaningful content and an engaged community. Have to say something about this? Write in the comment box.

Tarun Gupta, CEO of Brainpulse Technologies, is a prolific author and digital marketing specialist. His insightful writings span SEO, content marketing, social media strategy, and email campaigns, offering invaluable expertise to businesses worldwide. Tarun's contributions continue to shape the digital marketing landscape, guiding success in multiple niches.
---