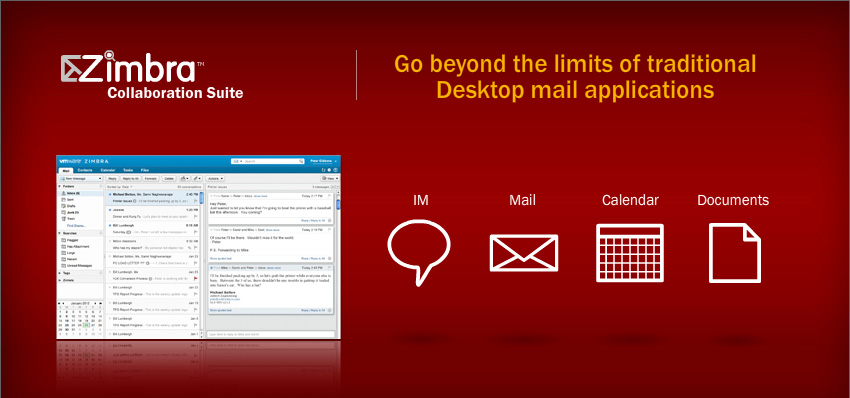 Zimbra offers a comprehensive range of email features and utilities to the clients when it comes to offer them best out of their email solutions. The out of the box features the Zimbra delivers, allow them big business benefits and long term administrative advantages.
With the inception of Zimbra desktop clients, storing and aggregating the emails, calendar, contacts, files and documents have become very easy. With Zimbra, users may aggregate the information available across several accounts at one place. It not only helps to make communication easier but also rationalizes the process as easily as ever.
Being the highly innovative and popular among the collaboration suites used by businesses, Zimbra costs less in contrary to its other counterparts. A web hosting company offers a niche in the email hosting services where users are allowed to access calendar items, emails, contacts and many more objects at one central location via open source Zimbra E-mail Hosting.
A well defined collaboration suite:

A web hosting services provider exploits almost all the amazing features of Zimbra web hosting including POP / SMTP, Ajax based webmail, calendaring, document management, task management, anti spamand seamless information security. Among other noteworthy features of this hosting process includes instant messaging and a highly advanced admin panel.

Best e-mail Hosting ever:

Being an open source, it's operated equally well on Linux operating systems as it creates wonders on Mac OS and Microsoft based hosting servers. The uniqueness of this AJAX based suite is that it incorporates a variety of applications at a single place. It makes integration of Facebook, Twitter and other applications more easier as ever.

High end operating system compatibility:

Being comfortable on all the available operating systems, Zimbra resolves the critical interfacing requirements of right network e-messaging solution on different business models. A Web Hosting Company infuses the best quality add-ons in the Zimbra e-mail hosting services and furnishes almost all the features of this well managed email suite in order to offer matchless email hosting services to the small and mid-sized businesses. The hosting services of the Zimbra could be processed on any available hosting servers and that's the primary attribute which offers big advantages to the business owners.

Trusted advantages of Zimbra E-mail Hosting:

Multiple are the reasons that led a web hosting company offer Zimbra collaboration suite as a prominent e mail solution to the clients who opt for the web hosting services. Among some of the benefits, users can count on the following :

Server side storage of all Inbox, Sentbox and attachments
Availability of on-line calendar, contacts and notes and easy access with synchronized devices
Calendar scheduling to setting up meetings with clients
Great Apple Mac support
Being the highly competent e-mail hosting solution for the businesses of all size, Zimbra needs no hardware maintenance, requires limited software administration and offers very sophisticated customization option altogether.

Tarun Gupta, CEO of Brainpulse Technologies, is a prolific author and digital marketing specialist. His insightful writings span SEO, content marketing, social media strategy, and email campaigns, offering invaluable expertise to businesses worldwide. Tarun's contributions continue to shape the digital marketing landscape, guiding success in multiple niches.
---