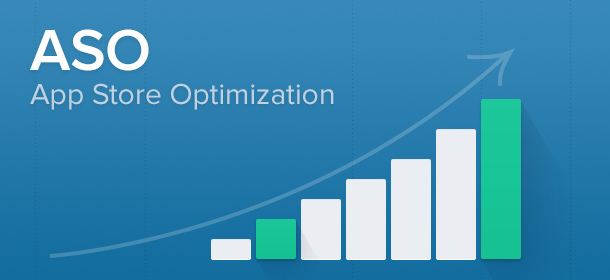 Even though you've developed an excellent mobile app, it needs impressive ranking for better visibility. Therefore, you need to be a bit strategic about app store optimization to bring targeted audience on your webpage. A leading research agency unfolded that in 2012 there were 1.2 billion app users, and the number is all set to reach 4.4 billion by 2017. The research further added that in the year 2013, 82 billion apps were downloaded, and that could be jumped up to 200 billion by 2017.
What is App Store Optimization (ASO)
Let's begin with this -
ASO, App Store Optimization is a process of optimizing mobile app for greater viability in app stores. The more an app ranks higher the more is its chance to be visible to the potential users. Increased visibility, then translates into a huge traffic to your app's page on the app store.
Unarguably, ASO aims at bringing more buyers to your app page enabling them taking specific actions like downloading an app or writing recommendations.
FACTORS THAT INCREASE APP DOWNLOADS
Here are some effective App store optimization tips that will bring audience and revenue.
Carefully Chosen App Name
The name of an app is significant to its success on the app store. An app should be wisely named so that it could tell users more about its purpose. A trendy or stylish app name might confuse users. Make sure you choose a unique app name that reflects your service and that users can easily identify. Google allows an app name with up to 255 characters and shows up only 25 characters in the search results.
App Pricing Plays A Role
Besides optimization, pricing of the app is also an important factor. An app fails to get buyers if it's overpriced. Perform a deeper market research on pricing. Find out how your competitor's app has been priced and if you too can consider a lower price option. User always go for the price tag that offers them the best.
Be Selective About App Icon
Your app is your brand carrier on app stores. Make it distinct with an amazing logo. While developing an app, include your brand logo as app icon. It will help users quickly recognize and access your app. It doesn't impact search crawler at all and increases your download rates, reviews and ratings.
Screenshot AB Testing
AB testing could help you to make your app an attention grabber. Though, no play store offers AB testing facilities, you can do it by yourself. Create two separate screenshots of your app to determine which one brings more traffic. Use some of the most popular digital marketing channels to test which screenshot get the best response. One which grabs the highest traffic will be your trump card.
Keep Customers Informed About Updates
Whenever your app gets an update, inform your users. Tell them exactly what the update contains and what it might have in updates to come. Write at least two or three important inclusions that the latest update has. Merely writing 'bug fixes' won't make any help.
KEY APP RANKING FACTORS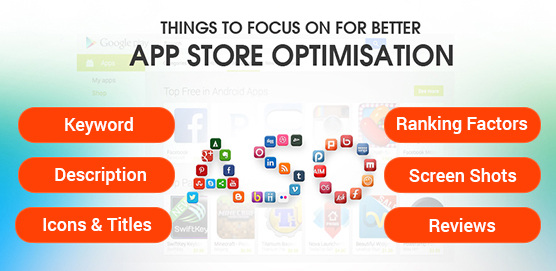 Well-Optimized App Title And Keywords
Forrester, in a research, revealed that almost 65% of apps are discovered through app store searches. Therefore, to make your app searchable, it's extremely important to include relevant keywords in app title and description.
It however requires a bit of research. Investigate user behavior to find out what the keywords they use to find apps. Once you get a complete list of possible and the most relevant keywords, incorporate them in the title and description.
Total Number Of App Downloads
Although, a point still under observation, experts are of the thought that it does matter a lot. Number of downloads directly influence app recognition, awareness and appeal. The More it's got downloaded, more visible it will be in the search rankings.
Google+ integration
The results might differ for other app stores, but to get visible in Google play, you need to integrate your app with Google+. As it's Google's own property, the search engine gives it the top priority. The more +'s that your app receives, the more visible it will be in Google Play. The Google+ integration tells bots that you've a genuine product.
Reviews And Recommendations
Besides, the number of downloads, positive reviews and recommendations are also important for app's visibility and demand. While acting upon an app, a user reads app reviews to determine if it's a right buy. To make your app rocking the app store, request and invite existing customers to write positive recommendations about your product.
-App Store Optimization Best Practices

Tarun Gupta, CEO of Brainpulse Technologies, is a prolific author and digital marketing specialist. His insightful writings span SEO, content marketing, social media strategy, and email campaigns, offering invaluable expertise to businesses worldwide. Tarun's contributions continue to shape the digital marketing landscape, guiding success in multiple niches.
---