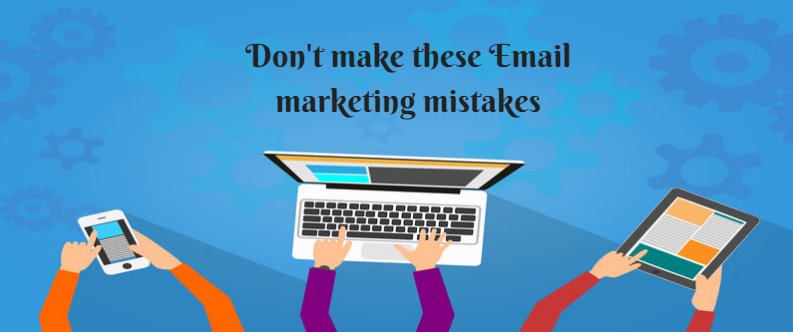 Email Marketing is the most inexpensive and effective tool to reach customers. If used with a proper strategy, it could bring better results than any other digital marketing channel known. There have been numerous stories of entrepreneurs who achieved their business goals just by putting their email marketing right.
However, over time, users' email preferences have been changed. Now, they prefer to open only those emails that deliver some value to them. With the growing numbers of mails being thrown into spam and junk folders, it's now quite a task for marketers to send mail that resonates with their audience.
9 Email Marketing Mistakes To Avoid:
If you've lately found that your mass-mailing campaign tanked, reason could be that you forgot to fine-tune your email marketing strategy. Despite that much of effort you put into your email marketing campaigns, if you aren't getting open rates and click, you need to revisit your email marketing strategy. I am listing here a few things that are probably preventing your campaign from getting done.
1. Not Providing Subscription Form
This is the best way to add people into your email list. People frequently visit your site for various purposes. Offer them a way to subscribe your email list. If they do so, you will have a list of recipients who won't mind seeing your mail in their Inbox.
Now, there's the catch. Don't rely on a single subscription form on somewhere on your homepage. What if your reader is on your blog post and wants to subscribe? Make sure they needn't to search for subscribe box but have one everywhere they go. Put it in the sidebar, Below a blog post or after your content, on top of your page in the header area or on a floating bar.
2. Not Segmenting E-Mail List
Once you have the list, it's time to click the send button. But before finally sending, segregate them. By segmenting the list, you will have better control over the recipients who will receive your mail. This will give you better results in terms of lower unsubscribe rates, higher engagement and more sales. There are ways in which you can segment your list.
Based on product interests
Based on locations
Based on buying behaviors
3. Not Having Your Own List
Most of the campaigns are run using rented or purchased email list after full-fledged e-mail validation. This is quite dangerous in the long run. It's always convenient to buy a list of 1000 people and shoot a mail to them. Though, sounds attractive and done in less effort, it has two limitations that at least I know. One : When you purchase e-mail list, your recipients hardly have an idea who you are.
Thus, they throw your mails in the trash as you are unknown to them. Two: A seller likely sells the same list to other buyers too. Means, the same list has already been bought and used by other businesses also. There are good chances of of your mails to get rejected being unwanted and repetitive.
4. Not Providing Engaging Content
If your e-mail template doesn't offer value addition to your users, your campaign will be a big flop. Having a huge email list is all good but keep your mailer content engaging is also crucial. Spend some time on your template to draft mail content that engages your readers. Work on the subject line, headings, body content and call-to -action to get more out of your campaign.
Offering incentive to readers for filling up your survey will give them a reason to complete your survey. It helps to boost survey participation. However, make sure not to offer incentives with every survey, but whenever necessary. If you're doing short surveys or asking for product reviews, no need to offer incentives.
5. Missing Audience Segmentation
Sending emails to everyone in your list is the primary reason for your campaign failure. Your emails are thrown to junk folder, as they reach to those recipients who are not interested in them. This kills campaign's open rate and increases bounce rate. However, you can fix this easily.
Use list segmentation to filter emails. Create separate lists around user's demography, profession and other important parameters. Put in place some free or paid tools to let you track how customers are interacting with your emails. Once you get to know about email opens, clicks and unsubscribes, you will be able to send more targeted campaigns.
6. No Personalization
Blunt emails are the biggest turn off. Why should I be interested in buying a random product you have launched recently? Give your emails a personal touch. Track those customers who have earlier purchased a particular product from you. They may be interested in buying a similar product you're launching.
Every survey e-mail contains a piece of text suggesting the out line of the form. To make that text stand our of the crowd, add personal touch to it. While sending out product survey mails to subscribers, sens text and images from the product they purchased.
Use segmentation and re-targeting tools to find out targeted customers who have purchased a product from you recently.

7. Ineffective Subject Line
I receive hundreds of messages in my inbox everyday. It's very difficult for me to open and read each of them. However, I never miss an opportunity to read an email that includes an enticing subject line. As more of your audience is now accessing emails on their smartphones, you should use a subject line that can quickly grab their eye balls. Addressing your customers by their name may help, but personalized subject lines with a touch of humor or fun can do magic.
There are good chances that you are using same dead and tasteless subject lines that fail to capture and snubbed by users. Age old subject titles like 'customer satisfaction survey', Take our survey' or we want your feedback' lead your campaign no where.
At least, I hate these sick subject lines that appear rudely in every second survey e-mail. When hundred of junk mails choke people's inbox, they need a reason to show sympathy to your email. That means, you need to push a catchy subject line to get your email opened and read.
8. No Campaign Monitoring
Unless tracked and monitored, a campaign can't deliver expected results. You need to monitor every campaign for email opens, click-through rates and conversions. Use campaign tracking tools to find how well a campaign is performing and what more should be done to get better results. Conduct A/B testing of subject lines, call-to-action buttons and email design to find which component is doing better and which one needs a tweak.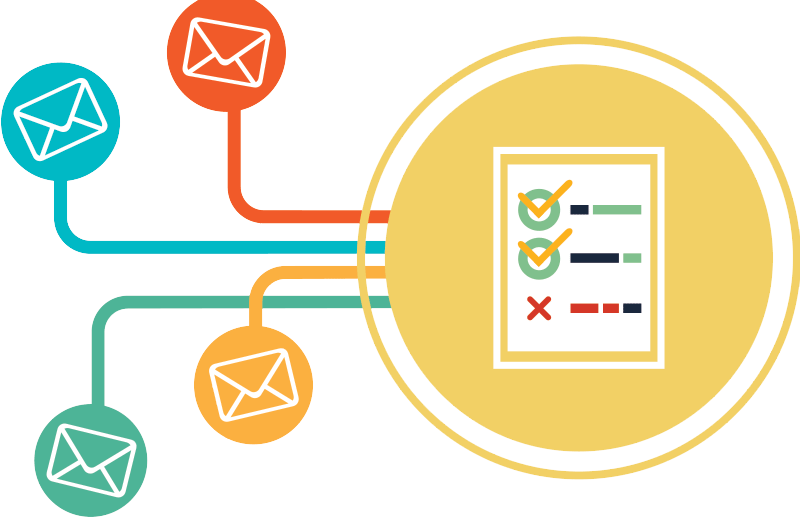 9. Spamming
Your campaign failed miserably as you bombarded emails in the inbox of those who opted for your subscription. Don't abuse the email addresses, your customers have provided you. Only send important information and relevant offers to them. If you're bothering your contacts several times with blatant marketing messages, you'll likely see an increase in unsubscribe requests.
Email Marketing Mistakes to Avoid- Conclusion
I don't know any other sure-shot way than e-mail marketing if I need to reach millions of my buyers at once. Whether it's a big business house or an eventually new startup, e-mail marketing suits both of them. Don't underestimate this awesome mode of communication.
Alike other marketing methods, email marketing too requires strategy and planning. Otherwise, your campaign may backfire. Whether you 're already running a campaign or planing to throw one, there are mistakes that you must avoid.

Tarun Gupta, CEO of Brainpulse Technologies, is a prolific author and digital marketing specialist. His insightful writings span SEO, content marketing, social media strategy, and email campaigns, offering invaluable expertise to businesses worldwide. Tarun's contributions continue to shape the digital marketing landscape, guiding success in multiple niches.
---