Managed Data Center Hosting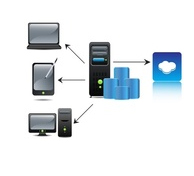 Our Tier-3 Data Center services are designed to offer businesses scalable space, robust power, seamless network capabilities and unbreakable security to enable them manage and control expenses. The industry-leading Data Center renders an ideal hosting environment with fully redundant connectivity, top-notch infrastructure, high-tech monitoring and security systems. This all makes our Data highly competent, secure and energy-efficient maintaining the servers up and running for 24/7.

Premiere Data Center Infrastructure:
All our Data Hosting Center solutions are optimized and offer clients an ability to migrate to advanced technologies and improved operational efficiencies. The Data hosting Center IT infrastructure services is aligned to your business objectives with industry leading infrastructure deployment methodologies.Our data-center infrastructure is all set to mitigate the complexities prevailed in the vertical. The infrastructure is developed to let the business house deliver high-end services services with full efficiency and cost-effectively. To ensure seamless security to the establishment, we have multiple Security cameras strategically located throughout the data center premises.
DC Network Capabilities:
BrainPulse Data Center is Tier 3 Cisco certified and supported by multiple internet bandwidth backbones to ensure ISP redundancy and high network availability. It supports Dual Stack (IPv4 plus IPv6) ready Network with internet connectivity available from Multiple Network Operators. We offer clients extensive range of Bandwidth ranging from 64 Kbps to STMs.
Monitoring / Technical Support:
A team of Microsoft / RHE / Cisco certified professionals at our NOC (Network Operations Center) monitor the Data Center on round the clock basis to ensure that facility is running uninterrupted. In the event of any outage appropriate measures are taken when reported by the monitoring systems. A team of BMS (Building management system) keeps the data center up and running as per the industry protocol and controls the DC environment. Above of the all our global delivery model offers the widest range of solutions with flexibility and choice in ever growing and competitive marketplace.
Data Center Services On Offer:
BrainPulse own Data hosting center facility spread across 4000 Sq. ft and capable enough to accomplish the business needs of organizations in terms of Data Consolidation, Web Hosting, Virtualization, Cloud Computing and Mainframe services. We are a growing IT infrastructure provider with core focus on people, process and technology and decade long expertise in remote infrastructure management. We provide an extensive range of service at our data center facility. The services Include:
Enterprise Application Hosting Services
Enterprise Cloud Services
Server Colocation Services
Virtualization Services
Server Management Services
Storage Management Services
Data Center Capabilities:
Not only the services we offer are up-to-the-mark but also the DC infrastructure is designed to manage the enterprise IT infrastructure needs. At BrainPulse, we have advanced IT infrastructure assessment tools aligned to execute the client's business goals. Our Data Center is backed with a proven and tested BMS (Building Management System) with following capabilities.
High Level Security:
Our Data Center services India is equipped with the most up-to-date devices for access control and intruder protection. The security and intruder protection systems are linked to the RedGuard system that immediately sends notifications in the event of any kind of security breach. The entire data hosting Center is rigged with multiple levels of security starting from the entrance to the interiors. The security is managed by pin number access, key and motion sensors. The entire building is under strict surveillance of CCTV recording systems at all times.
Power Back Up Facilities:
The powerful electricity supply installed at our Data Center accomplishes diverse electrical requirements. Power is supplied through the robust lightning protection system, Generator changeover panel and redundant N+1 UPSs. In case of any interruption in power supply, our high power UPS automatically gets started to bear the complete load of all the servers and network hardware. To back-up this back up option, we have industrial generators installed. These generators supply enough electricity to the entire floor for an indefinite period of time. This ensures that we never run out of power supply and render glitch-free web hosting services.
Fire Detection System:
The entire data entire building is rigged with Data Center fire alarm systems to detect very early smoke. The Fire Suppression System is truly efficient and triggers gas in seconds to completely extinguish the fire. It is a computer friendly gas that does not harm computers or leave a residue.
Air Conditioning / Water Detection:
To ensure consistently controlled and maintained environment, all our Data Center services are well- equipped with powerful air conditioning systems, PAC (Precision air conditioning) which control the room temperature and also the humidity of the floor. In order to be prepared for all situations, we have installed smart sensors throughout the area to detect the leak. So if water leaks into the data hosting center, the alarms will inform the network operations center staff immediately.
Still have queries? Call us now on 0120-6790400 to get in touch with our Dedicated Server experts. They will tell you about our exclusive Data Center Hosting plans made specially for the businesses like you.
Latest Articles Update From blog