Responsive Website Designing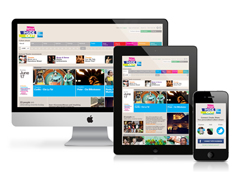 With emergence of Mobile Phones, Tablets, Laptops and iPads, the experience of browsing has completely changed. The responsiveness is becoming the key factor for a website's search rankings. Responsiveness is an attribute of a website that helps it to get displayed on different devices equally well irrespective of its pixel size and screen length. This is why online business owners have started looking at having responsive sites to tap more of their target audience. If you own an online business and want to make your website responsive, our Responsive Website Designing services are the best bet for you.

HTML 5.0 Based Responsive Designing
Our HTML 5.0 Designing Solutions are the finest mix of technologies HTML5.0, CSS3, and JavaScript and experience together. Brainpulse brings for our esteemed clients fully responsive website having rich user interface and offer maximum ease of use. The key takeaways of a responsive website design are:
Innovative and visually enhanced websites
Improved and maximized user-experience
Improved visibility with web usability testing
Interactive responsive prototypes for better response
Professional Responsive Web Designing
HTML 5.0 is the core of responsive website designing that empowers designers to develop websites that responds to every mobile device equally well. While designing responsive sites for mobile users, our designers keep in minds several its aspects including navigation, user experience, text and graphics. Responsive websites developed under our responsive web designing India at Brainpulse are the best in that vertical. These websites have device-independent user interface and the site layout can be adjusted according to the device used.
Well-optimized for the mobile and other devices.
Websites to ensure maximum user-experience.
Considerable cost reduction in site maintenance.
SEO friendly websites for improved visibility.
Give Your Website The Power of HTML 5.0
Whether you own a small company or big enterprise, our responsive website designing India experts will help you with some best-in-the class responsive website designs that help you bring your online presence to the forefront. Not only our responsive sites are fit for any communication device but also comprise a number of site features that a website must contain. We deliver sites with easy navigation, user-friendly interface and complete browser compatibility.
Still have queries? Call us now on 0120-6790400 to get in touch with our Responsive Website Designing team. They will tell you about our exclusive Responsive Designing plans made specially for the businesses like you.
Latest Articles Update From blog