Dedicated Server Hosting India
BrainPulse Offers a wide range of dedicated servers to suit your business requirements, with the flexibility to configure your own server by choosing a range of customization features ranging from Operating system, RAM, Hosting Control Panels, Firewalls, Backups, Raid etc. Servers are available on both Linux and windows platform, and can be leased or co-located in our in-house Data Center.

Dedicated Servers Series
Single Processor Servers
Cost Optimization: Server Best suited to function with non-compute rich applications and development environments.
Basic -

INR 9999
1 X Dual Core Xeon 3050
HDD: 250 GB
Ram : 2 GB
Bandwidth: 1000 GB

Dual Processor Servers
Balanced Performance: Complete provision of servers for surging compute power and scalability within affordable budget.
Enhanced -

INR 19000
2 x Quad Core XEON 5310
HDD: 500 GB
Ram : 4 GB
Bandwidth: 2000 GB


Quad Processor Servers
Maximum Performance: Dedicated Servers Specifically built to render optimum scalability and compute power to enterprise applications.
Performance -

INR 37500
4 X Quad Core Xeon 7550
HDD: 500 GB
Ram : 16 GB
Bandwidth: 2000 GB


Data Center and Infrastructure
BrainPulse Dedicated Hosting plans represent unparalleled performance that has often met more than our client's expectations. Our dedicated hosting servers are backed by industrial grade infrastructure to ensure maximum uptime.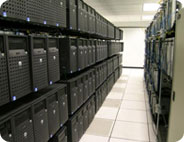 our 93,000 square feet data center provides round-the-clock digital, electronic, and physical security along with the support that sets BrainPulse apart as a service provider.
Our dual Sonet rings and OC-192 fiber connectivity ensures maximum redundancy and uptime thereby eliminating the downtime that can cost you your business money.
N+1 power generator architecture
Advanced fire suppression systems to keep any fires localized
Our data centers are monitored 24x7 (eyes and Hand) to ensure your servers are safe
Please Note: Our Data centers are located in India
Managed Dedicated Servers
Let Professional Server Administrators manage your Servers

BrainPulse houses professional administrators who are proficient in Windows and Linux Technologies. Our team excels in providing comprehensive administration, reducing your worries about the technology used and allowing you to concentrate on your business goals. Outsourcing server management from a third-party has often proved to be more beneficial and effective.
BrainPulse offers Managed dedicated Server Solutions to keep your business online and takes care of your bespoke requirements, helping you to optimize your online business in terms of security, availability and performance.
Latest Articles Update From blog